10/29/2007
Councilman Weiner Presents 2 Grants to Concord High School
Councilman Bob Weiner presented a grant for $1950 to Concord High School Field Hockey Team and Coach Sandra Wood on October 29, 2007. The funds were allocated to purchase much needed new uniforms and goalie equipment for the team. "It is my great pleasure to assist our youth through the wonderful programs offered by the Brandywine School District", said Councilman Weiner, upon presentation of the grant check. Also, while visiting Concord High School, Councilman Weiner presented a New Castle County Council grant check for $2500 to Tom Sabatino, Chorus Director/Music Department Chairman and to Dominick Pisano, Band Director to assist in purchasing a new grand piano for Concord High School. The total purchase price is $7500 and the balance of the purchase price is coming from Principle Mark Holodick's limited allocation of discretionary funds combined with a contribution from the Concord Friends of Music.

The Brandywine High School Band Booster Association, the Mount Pleasant Green Knight Band Organization, the Concord Friends of Music and the Brandywine High School Dance Program have all previously received grants sponsored by Councilman Bob Weiner sponsored ranging from $1000 to $2500 for a total of over $12,500. The purpose of the New Castle County Council grants budget is to strengthen the social, cultural and business communities within New Castle County. Special emphasis is placed on innovative community-based programs that reach underserved populations.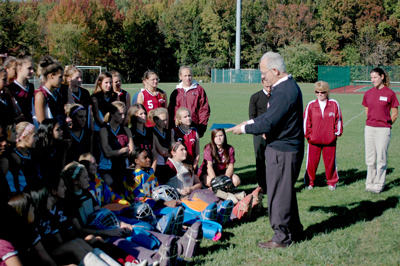 Have news? Please contact me!