11/1/2002
Claymont Renaissance is a dream about to come true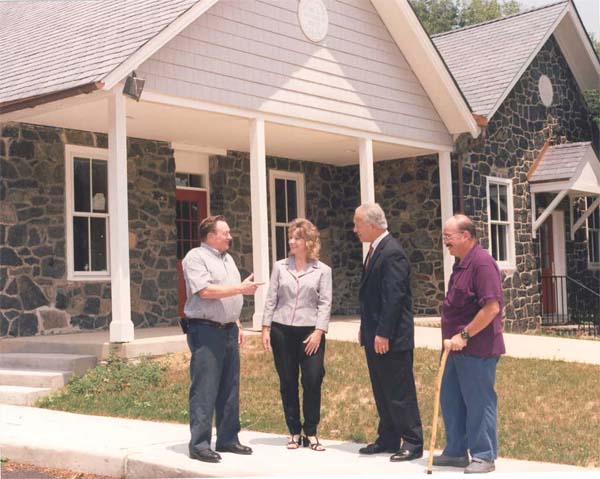 Councilman Weiner discusses the "Claymont Renaissance" with George Lossť and Frank Kolling, leaders in the Claymont Community Coalition, and Dawn Lamb, former president of the Claymont Business Owners Association. They are standing in front of the restored Old Stone School.

Could anything be more rewarding than participating in the rebirth of a community? Ask Councilman Bob Weiner.

"Claymont is a community which has played a very important role in our history going back to Colonial days. The strategic geographic location coupled with the spirit of pride that has been growing here in recent years makes it a prime candidate to become a national model for urban revitalization," he said. "It is a pleasure and honor for me to find ways to assist."

Since Claymont civic and business leaders first approached him to assist with their revitalization efforts in 1996, he has been involved in every aspect of the process. He has championed efforts to obtain both financial backing and technical assistance, and has encouraged, then applauded, the growing list of "believers."

Councilman Weiner has raised over a quarter of a million dollars from corporations and other government entities to fund the Claymont Renaissance. Detailed transportation and marketing plans have been developed. Councilman Weiner continues to be an integral part of Claymont's Renaissance. He is now working with Ideal Realty to assist it in selling Brookview Apartments which will become the center piece of the new urbanist development project. See www.claymontrenaissance.org for details.

Have news? Please contact me!