4/29/2008
Volunteers organized by Councilman Bob Weiner work on Tally Day Bark Park
Community News 4/29/08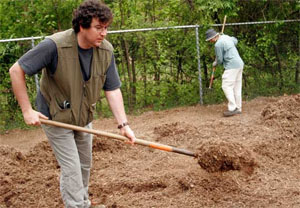 Nikola Shiklomanov and Irina Shiklomanov spread mulch in the Tally Day Bark Park. More than 30 volunteers showed up for the semi-annual event, in which volunteers spread mulch and clean up the fenced bark park, the only one in Delaware, according to New Castle County Councilman Robert S. Weiner (R-Chatham).

The park was built four years ago in the park next to the Brandywine Hundred Library. The mulch is supplied by a county-owned woodchipper and labor for upkeep is done by volunteers, except for a few employees who operate an earth mover and other vehicles, Weiner said.

The park, which contains two sides, is "the center for their world," for the people who use the park, Weiner said.
Photo by Katie Riggan
Have news? Please contact me!