5/12/2015
'Delaware Rocks!' exhibit truly down-to-earth
Councilman Bob Weiner's NCC grant is one of the principle sponsors for 'Delaware Rocks!' permanent exhibit at DE Museum of Natural History
'Delaware Rocks!' exhibit truly down-to-earth
Chadds Ford Live
Posted by Kathleen Brady Shea on May 12th, 2015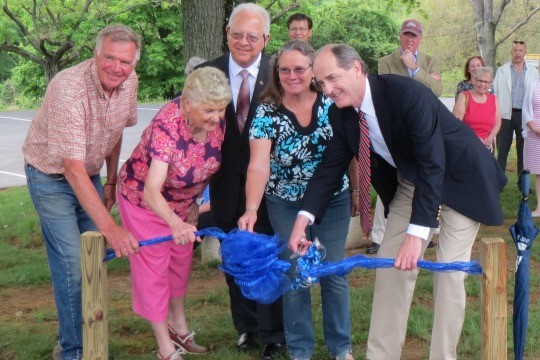 Halsey Spruance (right), executive director of the Delaware Museum of Natural History, is joined at the ribbon-cutting by those who played a role in the new exhibit, 'Delaware Rocks!'
Ever wonder how the Blue Rocks baseball team got its name or what rock was once used as an ingredient to make chocolate? The Delaware Museum of Natural History has those answers and more in a new outdoor display aptly titled "Delaware Rocks!"

The boulders are accompanied by signage that provides information about their formation and use.
Located under a canopy of oaks between the upper and middle parking lots, the exhibit gives new meaning to the concept of a rock garden, showcasing 14 large Delaware boulders – enhanced with native plants and interpretative signs.
Visitors can peruse specimens that played a role in the Washington Monument, tap "ringing quartzite" lightly with a hammer to see why it got its melodic name, and learn that, at more than 1.2 billion years old, Baltimore gneiss qualifies as Delaware's oldest rock.
At an unveiling on Monday, May 11, Halsey Spruance, the museum's executive director, explained that the exhibit evolved from a phone call from Tom Pankratz, a "rock hound" from the Delaware Mineralogical Society, who wanted to know if the museum wanted a large specimen of sillimanite, Delaware's state mineral, that he had found.
Four years later, Pankratz, dubbed by Spruance as the "bedrock" of the exhibit, worked with others to procure the 13 other boulders, Spruance said. He joked that on several occasions during that time period he had to assure Pankratz that the "rock garden was progressing." After all, one of the rocks, gabbro, which is formed when molten magma slowly cools, "wasn't made in a day," he said.
Spruance said in addition to collecting the specimens, a team that included Pankratz, William "Sandy" Schenck of the Delaware Geological Survey, landscape designer Susan Rivenbark, Meredith Doby of Meredith Doby Design Studios and museum staffers worked on the educational and design aspects of the project.
He said the museum appreciated the support it received from the Borkee Hagley Foundation, Ederic Foundation, and New Castle County. Those efforts will allow the public to become rock stars, secure in their knowledge about the region's very foundation.

Delaware's only natural history museum opened its doors in 1972 and houses the state's only permanent dinosaur display, surrounded by exhibits of mammals, shells, and other specimens from around the world, including one of the top-15 mollusk collections in the U.S. It's located at 4840 Kennett Pike, Wilmington, De., 19807. For more information, visit www.delmnh.org or call 302-658-9111
Have news? Please contact me!